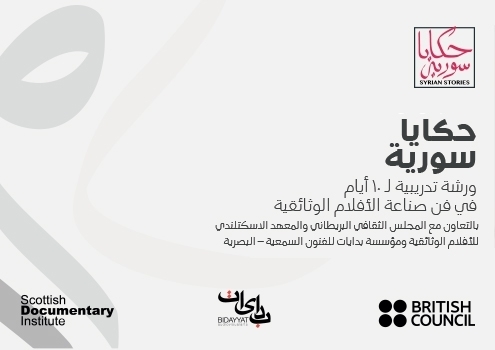 The closing date for applications is 28 June 2017 
OPEN CALL for emerging Syrian film-makers to join a training program entitled "Syrian Stories" – A partnership between The British Council, Scottish Documentary Institute and Bidayyat for Audiovisual Arts
The British Council, Scottish Documentary Institute and Bidayyat for Audiovisual Arts are pleased to announce the extension of Syrian Stories into Turkey, a training program for emerging Syrian and Syrian-Palestinian filmmakers. The Syrian Stories programme seeks to support a new generation of documentary filmmakers who wish to create engaging films that reflect on and question their society.
In July 2017 we will be holding a workshop in Istanbul to support 14 to 16 Syrian and Syrian-Palestinian emerging film-makers based in the local area to develop their skills, plan and realize their own creative projects and reach new local and international audiences through their work.
During this 13-days practical documentary workshop participating film-makers will be supported to develop their skills and explore documentary creativity for the international film festival market.
This practical workshop in documentary will allow participants to:
Develop an understanding of creative documentary for international festivals
Develop an idea into a short creative film
Work with characters, sound and visuals dramatically and emotionally
Produce a 5 minute documentary
The workshop will be made up of a mixture of seminars and consultant-led advice sessions and during the course of the workshop the participating film-makers will work in teams of 4 (director/ camera/sound/editor) to produce their own 3 to 5 minutes short documentary film. Each film should offer an original insight into the identity of the locality where the participants are based, working through a personal/character led story.
The closing date for applications is 28 June 2017
Location: Istanbul-Turkey
For more information on the content of the 13 days workshop please click here to see the attached draft training programme.
If you are interested in taking part please apply online by clicking here Opens in a new tab or window. (the application form is in Arabic).